lynnkay Escort - Interview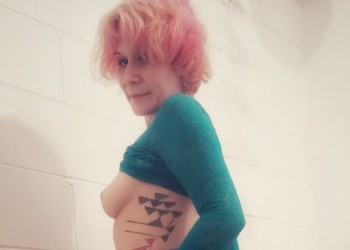 Q:Do you have a list of clients that you see regularly that you have formed a special bond with? Would you feel 'cheated' if they saw another girl like how hairdressers get mad at you if you get your hair cut somewhere else?
A:no not at all. men see escorts for sex! and they always like to experience different things. It's just a matter of time before they come back to me and once they get me enough they go back to other escorts then come back again. This is very true for the regulars!
Q:How do you handle first-timers or those who have limited experience with escort services? What are your suggestions to such clients to make your encounter the most enjoyable?
A:I'm easy going and very open minded. never had issues with that
Q:If a client decided to make you a present, what would you be happy to receive? What is your wish-list (maybe flowers, lingerie, parfume, music albums, books etc.)?
A:On my twitter@darkgothangel there is my Amazon shopping list. get me anything from there and I'll appreciate it
Q:What makes you notable among other providers? What exactly, you believe, you're good at? What makes your service unique? What is your favorite kind of service?
A:Whoever experience me comes back because I have positive attitude and low restrictions.
Q:How do you prefer a client to make an appointment? What information is important for you? Is screening required before the appointment?
A:I ignore all vague requests. I need age, country of origine, session length, dates and times when the session is to happen, what exactly you need to do in our session also incall or outcall and locatoin. Anything short of that I will ignore the message
Q:Do you ever get nervous before meeting a client? Is it kind of like preparing for a first date?
A:not any more. Escorting for me is like drinking water :)
Q:What sort of personality qualities does someone need to possess to be a successful escort?
A:submissive in terms of being the person your client wants and most importantly the attitude and personality. if you can't face it and like doing it then escorting is not for you!
Q:If someone wished to become an escort, how would you recommend they go about it?
A:very slow and carefully. ask and do extensive homework before embarking on this line of work.
Q:What are your dreams, future goals and aspirations? Short and long term?
A:my short term is to increase my quality high paying "The Regulars" clients and long term is to retire and find someone open minded who will accept my then former escort work.
Q:What types of clients do you deny to meet? Are there any restrictions?
A:The only restriction I have is no one under 35years old and if you want bareback be prepared to show tests. I provide a monthly test with every meeting showing I'm clean and healthy.
Q:What is the strangest request you have ever had from a client?
A:Being in this business I've sen it all. The strangest request I was willing to do was bareback anal to mouth (ass to mouth). they seem to love that.
Q:Can you tell us a bit about your first escort job?
A:I was incredibly nervous and I was no fun. I remember knocking on my first client hotel door and I got in, he had a bottle of white wine I've must drank it all. He paid me $100 for 30 min vaginal but I was so nervous I just got naked and went face down ass up on his bed. He ended up cumming twice in my vagina and once in my backdoor. Then I left and fent bad for him because I was a total dead fish butt he didn't mind and tipped me $50. Now hes my regular twice a week client :)
Q:What did you want to be when you were growing up?
A:I wanted to be a lawyer
Q:Has being an escort changed your view of men?
A:very much so. I became incredibly submissive and I do what my client wants as long as I get the agreed on $$$
Q:How long have you been working as an escort?
A:13 years and still going
Q:How did you get into the escort business?
A:my boss at my former work offered me $100 to give him bbbj and I did. it was the quickest $100 I got in 10 minutes. Then it went from bbbj to vaginal and anal and I did it all for the $$$. My boss introduced me to gentelmans club in Toronto and I started working some clients in the VIP and it took off from there. Now I'm fully independent.
Q:What's the best bit about being an escort?
A:$$$ money!
Q:What don't you like about being an escort?
A:The screening process. It takes too long in some instances
Q:How often do you work per week?
A:24/7. I cater to your needs.If you need an escort to release your tension I'll be there ready on a short moment notice assuming I'm not double booked
Q:What are your turn-offs?
A:bad hygiene, bad breath
31 Oct 2016
Nailia Escort - Interview
Q:Do you have a list of clients that you see regularly that you have formed a special bond with? Would you feel 'cheated' if they saw another girl like how hairdressers get mad at you if you g...
Read more