Devin Escort - Interview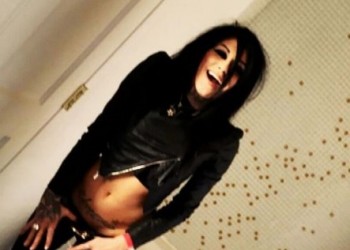 Q:Do you have a list of clients that you see regularly that you have formed a special bond with? Would you feel 'cheated' if they saw another girl like how hairdressers get mad at you if you get your hair cut somewhere else?
A:Naah
Q:How do you handle first-timers or those who have limited experience with escort services? What are your suggestions to such clients to make your encounter the most enjoyable?
A:I am fun and friendly and never akward or a bore or disappointment
Q:If a client decided to make you a present, what would you be happy to receive? What is your wish-list (maybe flowers, lingerie, parfume, music albums, books etc.)?
A:Love Escada Perfume. Obsessed w/ Sephora (or Ulta)!, love dressing up in tiny lil fun outfits and obsessed w thigh highs!
Q:What makes you notable among other providers? What exactly, you believe, you're good at? What makes your service unique? What is your favorite kind of service?
A:LOVE BBBJ.... im the best/its my fav. I also get extremely ridiculously wet. GFE (i like it to be passionate and fun and both of us to be turned on & cum as much as possible).. SAFE yet as close to PSE as it gets and I never watch the clock or have a driver/booker/etc. In my life.
Q:How do you prefer a client to make an appointment? What information is important for you? Is screening required before the appointment?
A:I am not that difficult AT ALL compared to many. The bare essentials and simple things like your name on a review site etc... Im open to other forms of verification also
Q:Do you ever get nervous before meeting a client? Is it kind of like preparing for a first date?
A:Unfortunately yet i think its normal..yes. It is a scary world out there and the risk of LE is always a concern.
Q:What sort of personality qualities does someone need to possess to be a successful escort?
A:Fun-loving. Open minded. Honest. Enjoy being sexy and pleasing others. Always be respectful of the clients privacy & time, and appreciative of their generousity and kindness towards YOU!
Q:If someone wished to become an escort, how would you recommend they go about it?
A:Do alot of reading and research before they decide what route they wanna go l
Q:What are your dreams, future goals and aspirations? Short and long term?
A:TO BE HAPPY HEALTHY and I FEEL MY PURPOSE IN LIFE/FEEL STRONGLY ABOUT HELPING THOSE IN NEED AND MAKING A DIFFERENCE IN THIS WORLD... Changing lives for the better.
Q:What types of clients do you deny to meet? Are there any restrictions?
A:Yes. If you refuse to verify anything about who you are.. Sorry. I see people who are straightforward/direct... Tell me who they are and what they wud like to do for our date and make me feel comfortable and safe... Im very friendly and down to earth so as long as u are honest and cool w me than i can get along w just bout anyone!
Q:What is the strangest request you have ever had from a client?
A:Oh gawd. Some people are out there and im pretty damn open minded and very cool.. Its hard to weird me out lol.. But.. Idk.theres alot lol
Q:Can you tell us a bit about your first escort job?
A:My friend told me to just go meet her friend.. Flirt and look hot and.. Somehow it worked out even tho I didnt really know how it worked.. She must have informed him lol
Q:What did you want to be when you were growing up?
A:Model, clothing designer, director, publicist ;)
Q:Has being an escort changed your view of men?
A:Not really
Q:How long have you been working as an escort?
A:On and off for atleast a few years or so
Q:How did you get into the escort business?
A:I was younger and moved to Hollywood from Orange County and a friend introduced me
Q:What's the best bit about being an escort?
A:My own hours. My choice who I see or dont see. I love sex. I love being sexy and spoiled and also spoiling others. Have met some really awesome people and even good friends throughout the years that I am so grateful for.
Q:What don't you like about being an escort?
A:The phonies, thieves, and Fake people that cause the problems and paranoia and need to verify so important... that only make it harder and fcuk it up for the rest of us awesome real girls out there
Q:How often do you work per week?
A:Not often. Maybe see 2 people a week the majority of the time.
Q:What are your turn-offs?
A:Fake/ judgemental/ closed minded/ controlling or passive aggressive
27 Jan 2018
lynnkay Escort - Interview
Q:Do you have a list of clients that you see regularly that you have formed a special bond with? Would you feel 'cheated' if they saw another girl like how hairdressers get mad at you if you g...
Read more