KatarinaMonroeXXX Seattle Escort - Interview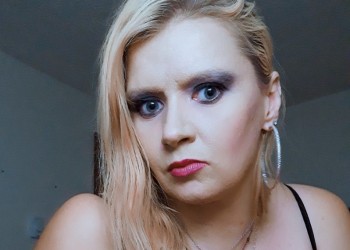 Q:Do you have a list of clients that you see regularly that you have formed a special bond with? Would you feel 'cheated' if they saw another girl like how hairdressers get mad at you if you get your hair cut somewhere else?
A:Yes actually I would I build close relationships with my clients and I feel like we are friends and I would feel betrayed by a friend but on the other hand, this is a business
Q:How do you handle first-timers or those who have limited experience with escort services? What are your suggestions to such clients to make your encounter the most enjoyable?
A:My specialty is new clients. My suggestions is to read all you can about etiquette there are a ton of good sites and blogs about client etiquette
Q:If a client decided to make you a present, what would you be happy to receive? What is your wish-list (maybe flowers, lingerie, parfume, music albums, books etc.)?
A:lingerie or shows or gift cards
Q:What makes you notable among other providers? What exactly, you believe, you're good at? What makes your service unique? What is your favorite kind of service?
A:I am a low volume provider who specializes in quality above quantity The GFE experience is my favorite service
Q:How do you prefer a client to make an appointment? What information is important for you? Is screening required before the appointment?
A:By text with their name, age, address, time and day of appointment all pertinent details in the 1st text It is important they give their full name and birthdate. Yes I screen All Professionals Doi
Q:Do you ever get nervous before meeting a client? Is it kind of like preparing for a first date?
A:I get nervous every time before meeting a client that is only natural. It is very much like preparing for a first date
Q:What sort of personality qualities does someone need to possess to be a successful escort?
A:Confidence and self assurance are huge ones. Elegance and class are important. A ease around people
Q:If someone wished to become an escort, how would you recommend they go about it?
A:Talk with someone who is skilled and has experience in the escort world, work with them for a while.Learn everything you can.
Q:What are your dreams, future goals and aspirations? Short and long term?
A:I am in school to get my Bachelors Degree in Law and justice to eventually go to law school and become an attorney.
Q:What types of clients do you deny to meet? Are there any restrictions?
A:I refuse to work with those who lie, no call no show, make rude comments Restrictions are dick pics and improper language or obscene language
Q:Can you tell us a bit about your first escort job?
A:I did doubles with an older woman who taught me how to be an escort
Q:What did you want to be when you were growing up?
A:a veterinarian or attorney
Q:Has being an escort changed your view of men?
A:yes in some ways positive, in some negative
Q:How long have you been working as an escort?
A:Professionally since I was 19. it has been off and on. This time I have been doing it since 2017.
Q:How did you get into the escort business?
A:I started at a very early age through an older friend. I started working as a High Class Escort at the age of 19 and have done so off and on since. I plan to start an upscale agency here in Seattle by the end of January 2020
Q:What's the best bit about being an escort?
A:Meeting new People and being able to bring each one pleasure
Q:What don't you like about being an escort?
A:Clients who No Call No Show, Indiscretion, disrespect, Time Wasters, clients who try to talk you into something for nothing
Q:How often do you work per week?
A:I am a love volume Provider with very limited incall hrs. I believe in Quality over Quantity I only do 3 to 5 appointments a week.
Q:What are your turn-offs?
A:rudeness, being indiscreet, pushiness, not respecting my boundaries, negotiating my rates, lowball pricing, putting me down because of my profession, disrespect
19 Jun 2019
sameriah Chicago Escort - Interview
Q:Do you have a list of clients that you see regularly that you have formed a special bond with? Would you feel 'cheated' if they saw another girl like how hairdressers get mad at you if you g...
Read more