Sophia Escort - Interview
Q:Do you have a list of clients that you see regularly that you have formed a special bond with? Would you feel 'cheated' if they saw another girl like how hairdressers get mad at you if you get your hair cut somewhere else?
A:I do have close relationships with some clients but at the end of the day, its business. You cant take things too personal.
Q:How do you handle first-timers or those who have limited experience with escort services? What are your suggestions to such clients to make your encounter the most enjoyable?
A:Do NOT discuss any sex acts The donation is for time NOT SEX Be on time and tips are always appreciated
Q:If a client decided to make you a present, what would you be happy to receive? What is your wish-list (maybe flowers, lingerie, parfume, music albums, books etc.)?
A:Flowers : Lillies lingerie Perfume: Rihanna or Chanel No 5
Q:How do you prefer a client to make an appointment? What information is important for you? Is screening required before the appointment?
A:Light Screening Required Appts are preferred but not required Prefer calls or text instead of emails but email works too
Q:Do you ever get nervous before meeting a client? Is it kind of like preparing for a first date?
A:I only get nervous when its someone new cuz idk what to expect.
Q:What sort of personality qualities does someone need to possess to be a successful escort?
A:Sociable
Q:If someone wished to become an escort, how would you recommend they go about it?
A:Being Independent is the way to go and SAVE SAVE SAVE
Q:What types of clients do you deny to meet? Are there any restrictions?
A:Rude or agressive clients No BB or Greek
Q:What is the strangest request you have ever had from a client?
A:To pretend to be their daughter/sister/ mother
Q:Can you tell us a bit about your first escort job?
A:It wasnt bad. He was a really nice guy.
Q:What did you want to be when you were growing up?
A:Actress or Singer
Q:Has being an escort changed your view of men?
A:Not really
Q:How long have you been working as an escort?
A:2 years
Q:How did you get into the escort business?
A:I used to be a dancer and a friend told me about it.
Q:What's the best bit about being an escort?
A:Being Your Own Boss
Q:What don't you like about being an escort?
A:Sometimes it can be overwhelming
Q:How often do you work per week?
A:5-6 days/ week
Q:What are your turn-offs?
A:Bad Hygiene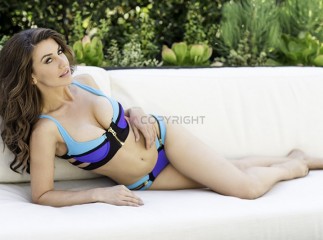 03 Aug 2017
AmyTaylor Escort - Interview
Q:Do you have a list of clients that you see regularly that you have formed a special bond with? Would you feel 'cheated' if they saw another girl like how hairdressers get mad at you if you g...
Read more